Weddings
If you're looking for wedding venues in Vermont, look no further than The Quechee Inn at Marshland Farm. With a backdrop of the Ottauquechee River, historic red barns, and lush green meadows, wedding guests enjoy exceptional cuisine and spirits as-well-as friendly, unsurpassed service from our staff. For your destination wedding in late spring, summer and early fall, we offer full-service catering for up to 180 guests for beautiful outdoor receptions in our fully tented brick courtyard. With an additional side tent rented we can accommodate up to 200 guests. If your guests occupy our 25 guest rooms for the weekend you'll have the inn completely to yourselves. For more information, please contact weddings@quecheeinn.com.
---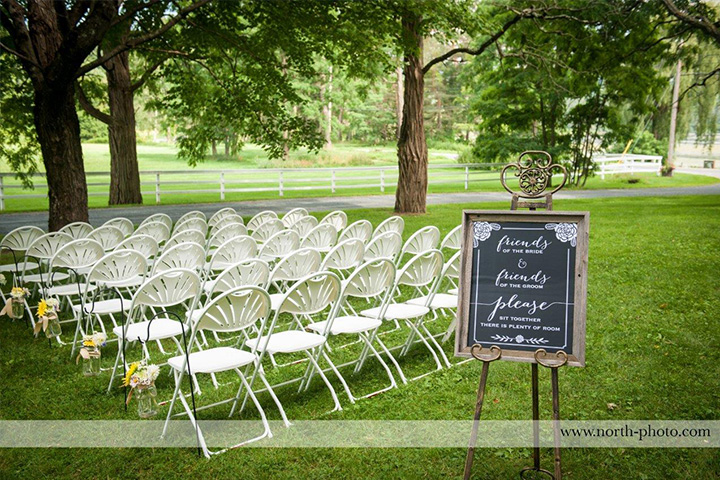 CEREMONIES
The Quechee Inn at Marshland Farm offers a variety of outdoor sites for your ceremony. You can have it in our upper or lower courtyards with views of the Ottauquechee River and Dewey's Pond as your background; or a more secluded ceremony in the back fields. The lush green meadows and scenic split rail fences make the perfect backdrop for your special day.  Smaller indoor intimate ceremonies can be accommodated as well.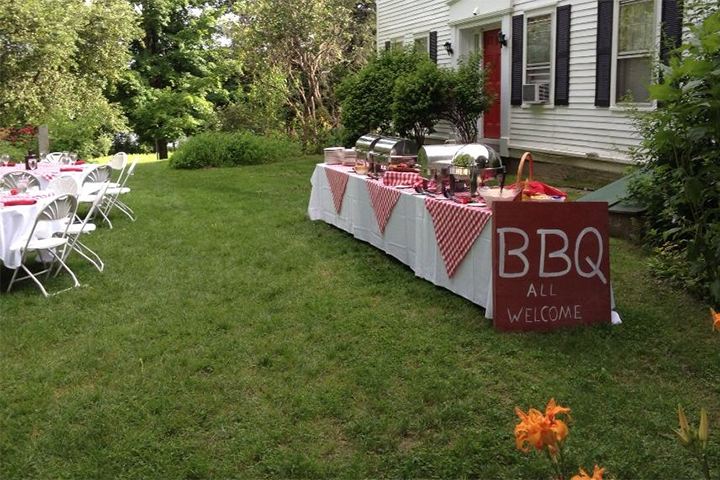 REHEARSAL DINNERS
Many of our wedding couples host their rehearsal dinners here at the Inn as well. Whether you decide to host an intimate dinner for just your wedding party or a big dinner for all of your guests staying here and in the area, we have the perfect settings to choose from. You can either host a bigger dinner under the tent, which is yours for the weekend or choose to host your dinner in our upper courtyard or one of our dining rooms. Our wedding coordinator will work with you on your décor or theme, and the menu you wish to offer that night. Our Chef's can create anything from a buffet or plated dinner to a fun BBQ or theme night as well.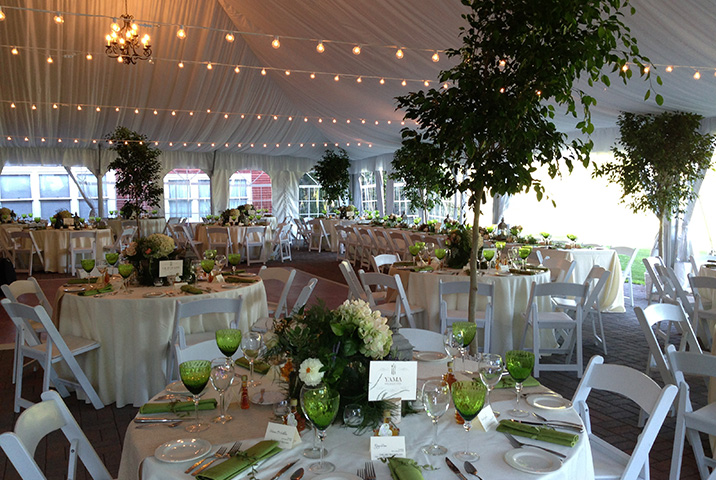 OUTDOOR RECEPTIONS
The Quechee Inn at Marshland Farm offers a fully framed steel tent with retractable window paned sides situated atop a brick courtyard right next to the historic red barn with beautiful views of the lush green meadow. During inclement or cool weather the sides can be closed to keep your guests warm and comfortable. Weddings of 60 to 180 guests can be accommodated with a moveable stage for entertainment and a wooden dance floor as well.  Our staff and wedding coordinator are happy to work with you on the décor and set up specific to your wedding. From decorating the reception tent and grounds to the smallest details at your place settings our staff will do whatever it takes to make your event perfect.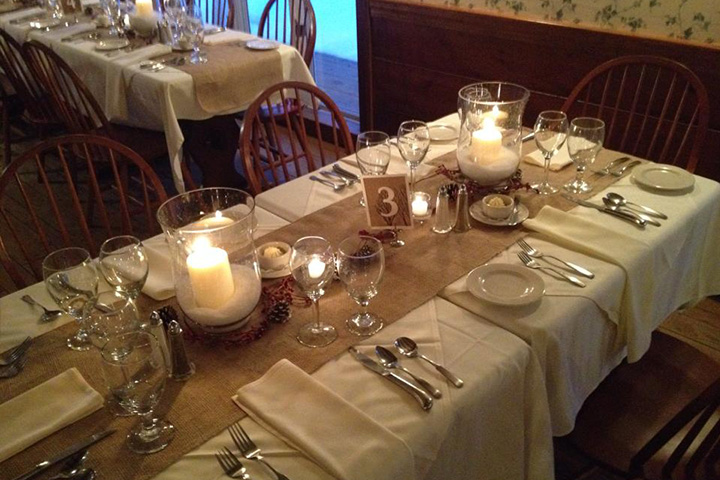 INDOOR RECEPTIONS
For smaller more intimate or winter weddings we can accommodate up to 72 guests in the Main Dining Room and Porter Library. The Common Room becomes the dance space if you wish and our full service bar is located right between the Dining Rooms and the Common Room for your convenience. We can also use our Gallery Dining Room to accommodate additional guests or set it up as a cocktail room or a buffet space if you decide on that option. Our staff will also be happy to assist you in any decorations or themes you may decide upon. Our adjoining patio with protective awning also allows for additional space for your cocktail hour and outdoor views in Season.